What's the secret behind all of
these amazing results?
Simplicity.
ACH13VE has quickly become the MOST EXCITING health and wellness movement because it's simple and it works! Thousands of people, just like you, are already looking and feeling better after starting the ACH13VE Transformation, and many are reaching their financial goals by sharing the Transformation with others. The ACH13VE Transformation combines a simple 3 Step product system with an easy guided wellness routine to help you stay on track. When you follow this simple system, you are feeding your body hundreds of beneficial nutrients. These key nutrients help to balance nutritional deficiencies and supply the body with the building blocks it needs to perform at its best!
You can do the ACH13VE Transformation on your own, or you can enroll in one of the Official 90 Day Transformations and we will be right there with you encouraging you along the way. CorVive also sends you complimentary ACH13VE Transformation gifts when you submit your Transformation results. You will be amazed at what can happen in just 13 short weeks with elite nutrition and consistent activity. So whether you want to lose a few pounds, get incredibly fit, or just feel better mentally and physically, the ACH13VE Transformation is for you. So don't wait. Now is the perfect time for you to begin your transformation.
AS EASY AS 1,2,3
WHAT DO I TAKE & HOW DOES IT WORK?
You might be wondering which products you should take to maximize the benefits of the transformation.
01.

Morning

Mornings are important. CorVive encourages you to start your day off with CorRenew (2 capsules), CorBolic (2 capsules) and HYDRATE (1 stick with 8oz of water).

Starting your day off on the right foot is critical. Proper hydration, metabolic activity and removing of toxins all come into alignment after proper sleep, which is why we recommend CorVive's targeted morning product regimen.
02.

Breakfast or Lunch

Replace either breakfast or lunch with a CORPOWER protein shake.

Helping your body replace vital nutrients is important. The modern diet continues to become more and more nutrient bereft. It is imperative that you supplement with clean, pure quality nutrition for at least one meal.
03.

Afternoon

Drink NRG + Focus or XLR8 KETO after lunch or mid-afternoon to give you clean mental and physical energy to finish your day strong (1 stick with 8-12oz of water).

Over time we manage to fill our day up with many daily routines and life can drain your energy. Its helpful to have a super high quality energy supplement that doesn't deplete you, but rather enhances your natural energy. CorVive's NRG supplement is delicious served either hot or cold.
How much Does it Cost?
You can get started for as low as 100$! On average, the Transformation cost ranges from $100-$300 a month depending on your needs. To help make it easier, we offer various product packs that contain all the products you need to get started. Our ACH13VE kit contains a 15 day supply of the ACH13VE Transformation products and is a great option for a fast start. Our Transformation Pack contains a 30 day supply of the ACH13VE Transformation products and is a great option to maximize your results in 30 days. Pick the pack that best fits your needs and start achieving your Transformation now.
Will I save Money?
the breakthrough CorVive Credit program you can actually take the ACH13VE Transformation for free. Many achievers are saving money while on the transformation. Funds that you routinely spend on meals loaded with empty calories and preservatives, can now be redirected to other needs. On average our Customers and Endorsers are saving $15-$26 a day. With ACH13VE you will be saving money and fueling your body with Elite Nutrition!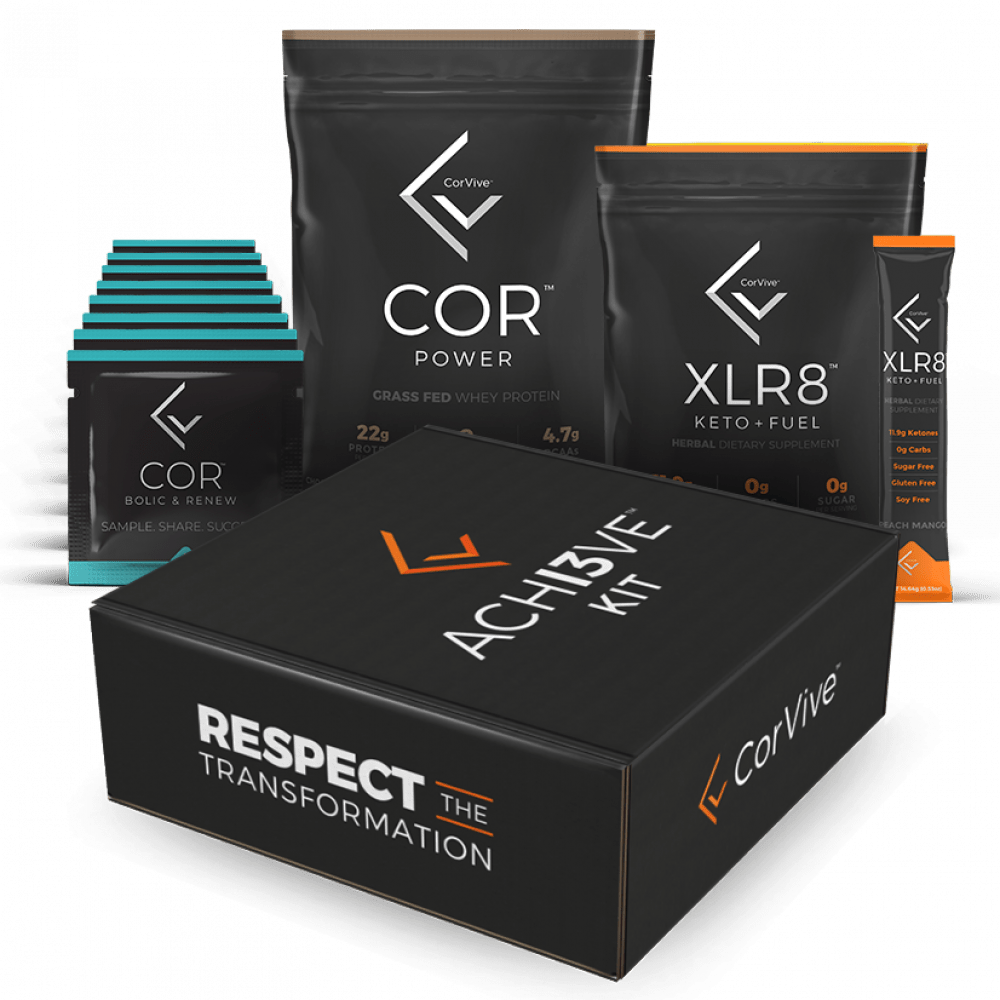 Get Started
Order Your Pack Today To Start Your Transformation.
ACH13VE Transformation Kit
$167.50